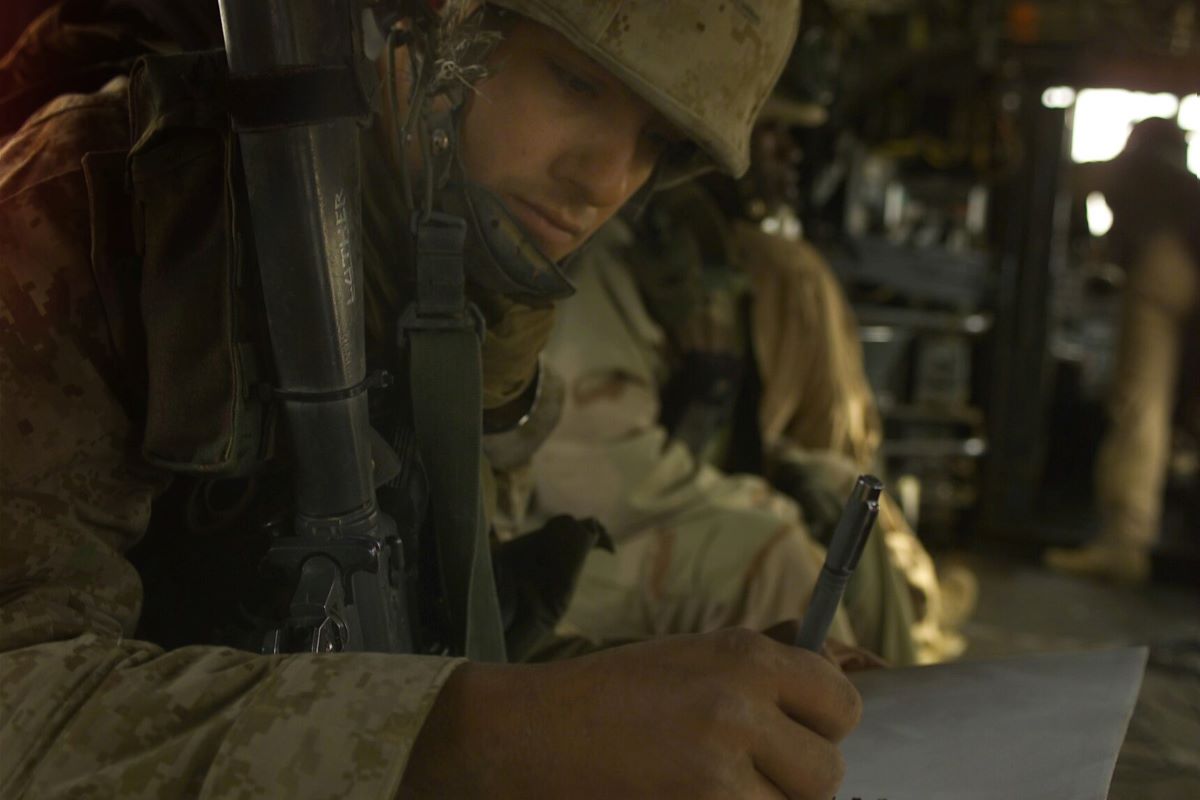 As a kid, art is how John Carrillo understood the world.
"One of the things I would do to escape was draw," he says, adding that he'd draw anything he could lay his eyes on.
He eventually went on to be an illustrator in the Marines and now designs products for a nationwide home decor brand. He's also involved in the Historic Fourth Avenue Coalition and owns the Oro Valley shop Rosie's Barket with his high school sweetheart, Nicole Carrillo.
Not knowing how to pursue art as a career initially, Carrillo graduated from high school and joined the Navy in 1990.
"After two years, I was trying to think how can I do art, how can I do this in the military," he says.
After four years in the Navy, Carrillo received his GI Bill and headed to art school. Soon after, his brother said he was joining the Marines and told Carrillo about their illustration program.
"I was like, 'yeah, right,'" Carrillo says. "But he had this written literature about it and I said, 'I'll be damned.'"
Next thing you know, Carrillo was visiting with a recruiter. But he was rejected because he was married with children.
So Carrillo went to a different recruiter.
Rejected again.
"My wife is the brain child behind it. She said, 'Draw a portrait of the commandant of the Marine Corps and a handwritten letter of what you can offer the Marine Corps,'" Carrillo says.
"She's the best partner to have," Carrillo says. "For me personally, I just want to draw. I don't even care if I get paid to do it sometimes. My wife is always like, 'No, this is how you focus the energy. This is how you generate revenue from it and exposure.'"
Nicole Carrillo hand-delivered the artwork and letter to the commanding general's office.
"Knowing what I know now, that was so preposterous," he says.
But it worked.
"Within 24 hours, the western recruiting region said, 'Yeah, you're good. You can come in and do exactly what you want to do,'" Carrillo says.
Telling the Marine Story
Carrillo, who is self-taught in art, joined the Marines as an illustrator in 1995.
"Even though you're an illustrator or an artist, you still have to meet Marine Corps standards," from physical fitness to starting your day early, Carrillo says.
"It isn't always like you're going to war or you're going to the field and doing this crazy, dramatic stuff," Carrillo says, adding that he'd be in the field once or twice a year.
"Basically anything I could see that I thought was worth drawing -- that told the story of the Marines or the mission -- that's what I would draw," he says. Sometimes it was a drawing of a building. Sometimes it was a detailed illustration of a pistol.
Carrillo also spent three months in Iraq.
"You get as close as you can to the action and just draw," he says.
Carrillo, whose Marine Corps work is credited under his nickname Jack, would bring sketchbooks to the field and paint his drawings later.
"I personally think, even if it's cruder or rougher, I think it's more true when it's from the field," Carrillo says. "You add on to the fact that it's hot and you're not in the safest or most comfortable spot -- it adds to the art."
"You could never do that when you're drawing from a studio," he says.
And all of his drawings, which are now at the National Museum of the Marine Corps in Virginia, were done live and on the spot.
"It was awesome telling the Marine story," he says. "It was an honor to do."
Civilian Life
After 21 years, Carrillo retired from the military in 2012 while living in Georgia, where he and his wife opened up a kitchen boutique.
"Cooking is a big thing for her," Carrillo says of Nicole Carrillo.
For each of the couple's moves while Carrillo was in the military, he says he was "always hauling around vintage cooking stuff."
"We just always had it. She always loved it," he says.
Wanting to get back to his love for art, Carrillo started designing products like tea towels for the store to sell.
About a year later, while shopping for products for the store, the Carrillos met Kathy Phillips, who owns nationwide home decor brand Primitives by Kathy.
Phillips took a look at Carrillo's products and said she was interested in manufacturing them. Since then, Carrillo has been designing products -- from pins to dog charms to water bottles -- for Primitives by Kathy.
The Move to Tucson
By 2016, the Carrillos, who are originally from Colorado, decided they wanted to be closer to home. They were inches away from moving to San Antonio, Texas, when Nicole Carrillo visited a friend in Tucson.
"She said, 'I know we're getting ready to do San Antonio, but I really wish you'd look at Tucson,'" Carrillo says.
Carrillo said, "Why not?" And after his second day in the Old Pueblo, he said, "What are we doing? Why are we not here?"
"I fell in love with it so hard," he says.
About 30 days later, they were packing up their Georgia home to live in Tucson.
The Carrillos opened Mabel's on 4th, a kitchen boutique on Fourth Avenue, in 2017. The spot closed in 2018 when they decided to focus on and expand their dog boutique, Rosie's Barket. Rosie's Barket, an idea of Nicole Carrillo's, opened in 2017.
Of course, Rosie's sells items designed by Carrillo.
Most recently, Carrillo created the artwork for a COVID-19 campaign with the Historic Fourth Avenue Coalition to encourage mask-wearing.
"I just really love Tucson and I really love art in Tucson," Carrillo says. "I feel like Tucson is evolving me even more. I've never had so many artist friends than I do here. Even in the military, in Georgia, I've never had so many creative friends."
This article is written by Gloria Knott from The Arizona Daily Star, Tucson and was legally licensed via the Tribune Content Agency through the Industry Dive publisher network. Please direct all licensing questions to legal@industrydive.com.
Show Full Article
© Copyright 2020 The Arizona Daily Star, Tucson. All rights reserved. This material may not be published, broadcast, rewritten or redistributed.
tinyurl
is.gd
v.gd
v.ht
u.nu
clck.ru
ulvis.net
shrtco.de
tny.im