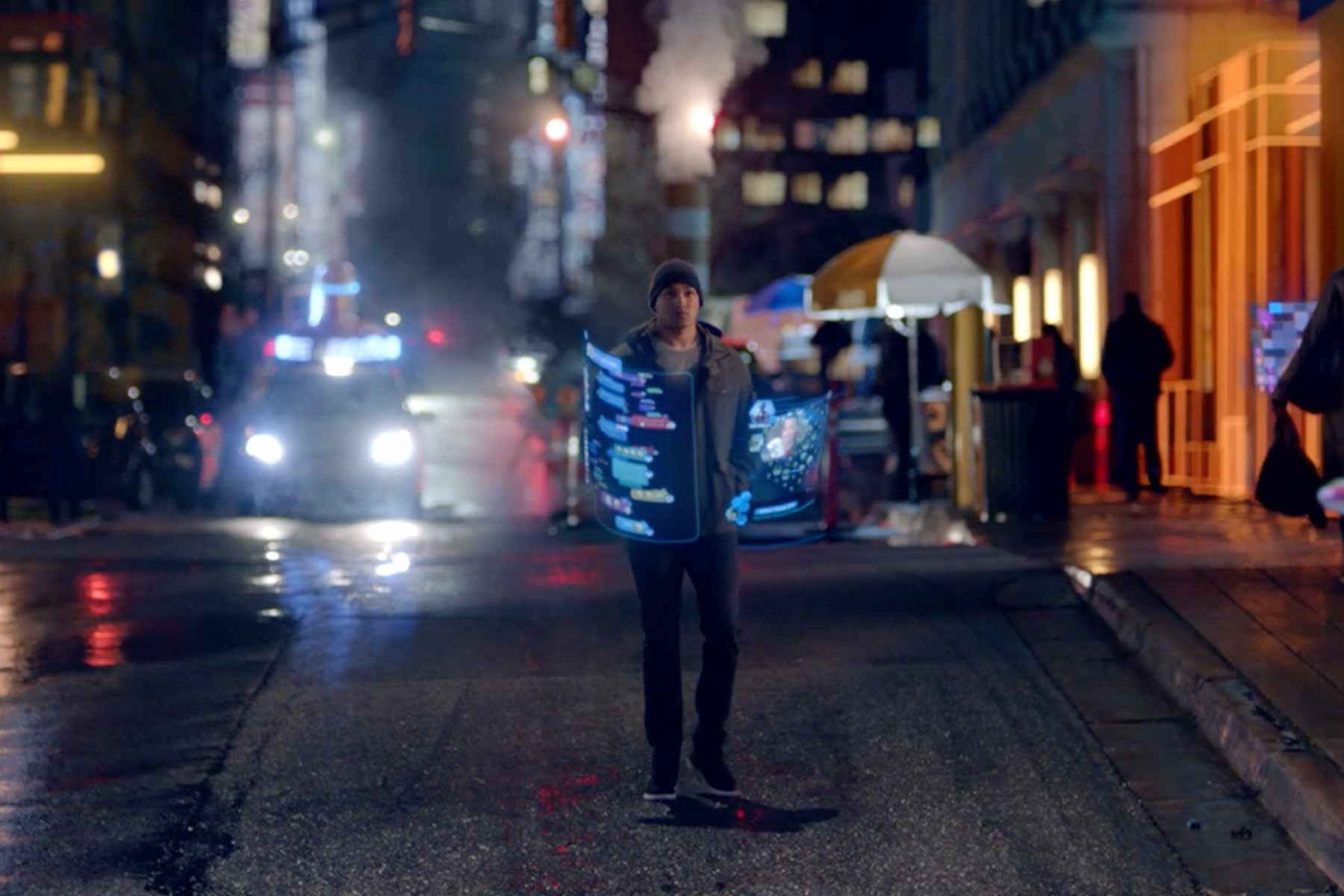 Young people feeling suffocated by the constant barrage of social media and other digital alerts can leave the shallow online world for a place where they can form real bonds.
That's the message in the Marine Corps' new minute-long "Battle to Belong" advertisement, which hits ESPN, NFL Network, NBA Network and other TV stations this weekend. Military.com was given an exclusive first look at the new commercial, which shows a man in a near-future dystopian society surrounded by ads, social-media notifications and other digital noise.
"Searching for meaning in a relentless world — always connected, but somehow alone," a narrator says as the man walks through a dark city lit up with moving ads. "Trapped by illusions."
Read next: Air Force Will Set New Diversity Recruiting Targets in 2021
Confronted by a hologram of himself, the man lunges at the hollowed-out image, emerging from the water in a nighttime raid at the famous Marine Corps Recruit Depot Parris Island in South Carolina, where he's training to be a Marine.
"We offer another path," the narrator says as the recruit charges forward with a rifle, surrounded by other Marine hopefuls, "where the battle to belong begins."
Digital materials that accompany the new commercial add, "What's real can't be downloaded. It must be earned together."
The concept for the new ad was based on research on Generation Z, the group born in the late 1990s and beyond from which the military is currently recruiting. Young people have more access to communication than ever before, but can still feel disconnected from their peers, said Lt. Col. Chris Devine, a Marine Corps Recruiting Command spokesman.
"Young people are searching for the type of purpose and meaning they may never find in the electronic glow of their devices, and we feel strongly that, for the few who share our fighting spirit, the Marine Corps offers a path toward this purposeful belonging," he said.
The commercial, which features Marine Staff Sgt. Jordan Viches, highlights the teamwork required to get through boot camp and the transformation men and women make to earn the coveted eagle, globe and anchor emblem. It's part of the Marine Corps' "Battles Won" recruiting campaign, which started in 2017 and focuses not only on how the service wins on the battlefield, but how it develops quality citizens.
Marine Corps Recruiting Command chose a diverse cast to appear alongside Viches after holding tryouts on both coasts earlier this year. The ad shows men and women shown training together at boot camp as the Marine Corps prepares to make its enlisted entry-level training co-ed in coming years, following a congressional mandate.
"We take pride in the fact that real Marines — never actors — represent the Corps in all of our advertising material and commercials," Devine said.
Wally Pfister, who won an Academy Award for best cinematography on the 2010 action science-fiction film "Inception," directed the commercial. The music was performed by Marine musicians, but produced by the award-winning composer Hans Zimmer. He, too, worked on "Inception," but is best known for his music in "The Lion King," "Gladiator," "Dunkirk" and "The Dark Knight" movies, as well as "Black Hawk Down."
Pfister said the inspiration behind the style in the beginning of the commercial was based on several science fiction movies, including Steven Spielberg's 2018 "Ready Player One." Once Viches' character reaches boot camp, the director said he was after "enormous energy and power worthy of the Marine Corps."
"The USMC impressed me more than I can say," Pfister said. "The integrity and fierce loyalty is right there for you to see and experience. The sense of honor is overwhelming and truly gave me a newfound respect and pride for our armed services."
'Trapped Outside the Belonging'
The Marine Corps shot the new commercial in Atlanta and Parris Island, from late February to early March. Most of the post-production work was done remotely, Devine said, due to the COVID-19 pandemic.
Viches, a 25-year-old correctional specialist who himself shipped off to Parris Island in 2013, was given storyboard samples of the scenes he was asked to perform. He had no prior acting experience.
"At 6 feet, 3 inches tall, he admittedly was no fan of rappelling or swim qual," Devine said. "After multiple repetitions in various needed shot sequences, he became an expert. We really enjoyed working with him and all the Marines selected to participate."
The Marine's height leaves him standing out among his peers in the closing shots of the commercial, when he and the rest stand in formation in dress blues as the famous "The few. The proud," slogan is shown.
Marine Corps Recruiting Command is targeting the 17- to 24-year-old crowd in the "Battle to Belong" commercial. The hope is that it shows members of Generation Z that the Marine Corps can offer an alternative for some of the challenges found to affect that age group: loneliness, anxiety and lack of purpose.
The man in the commercial goes from being "trapped outside the belonging and purpose he truly seeks," Devine said, to joining a service with an "authentic belonging and collective purpose."
The ad is set to hit on TV starting Saturday in 30- and 60-second versions. It will be followed by digital ads, including display banners, social media ads and other materials starting Monday.
Viches, who recently left his unit at Camp Pendleton in California to attempt to become a human intelligence Marine at a schoolhouse in Virginia, said in a Marine Corps interview that he wanted to be involved in the ad to help others make the leap he made in enlisting.
"Knowing that I'm eventually going to run into Marines that have seen this commercial and maybe that was the thing that made them join the organization, that's huge to me," he said.
— Gina Harkins can be reached at gina.harkins@military.com. Follow her on Twitter @ginaaharkins.
Related:New Marine Corps Video Aims to Set the Public Straight About What Jarheads Do
Show Full Article
© Copyright 2020 Military.com. All rights reserved. This material may not be published, broadcast, rewritten or redistributed.
tinyurlis.gdv.gdv.htu.nuclck.ruulvis.netshrtco.detny.im