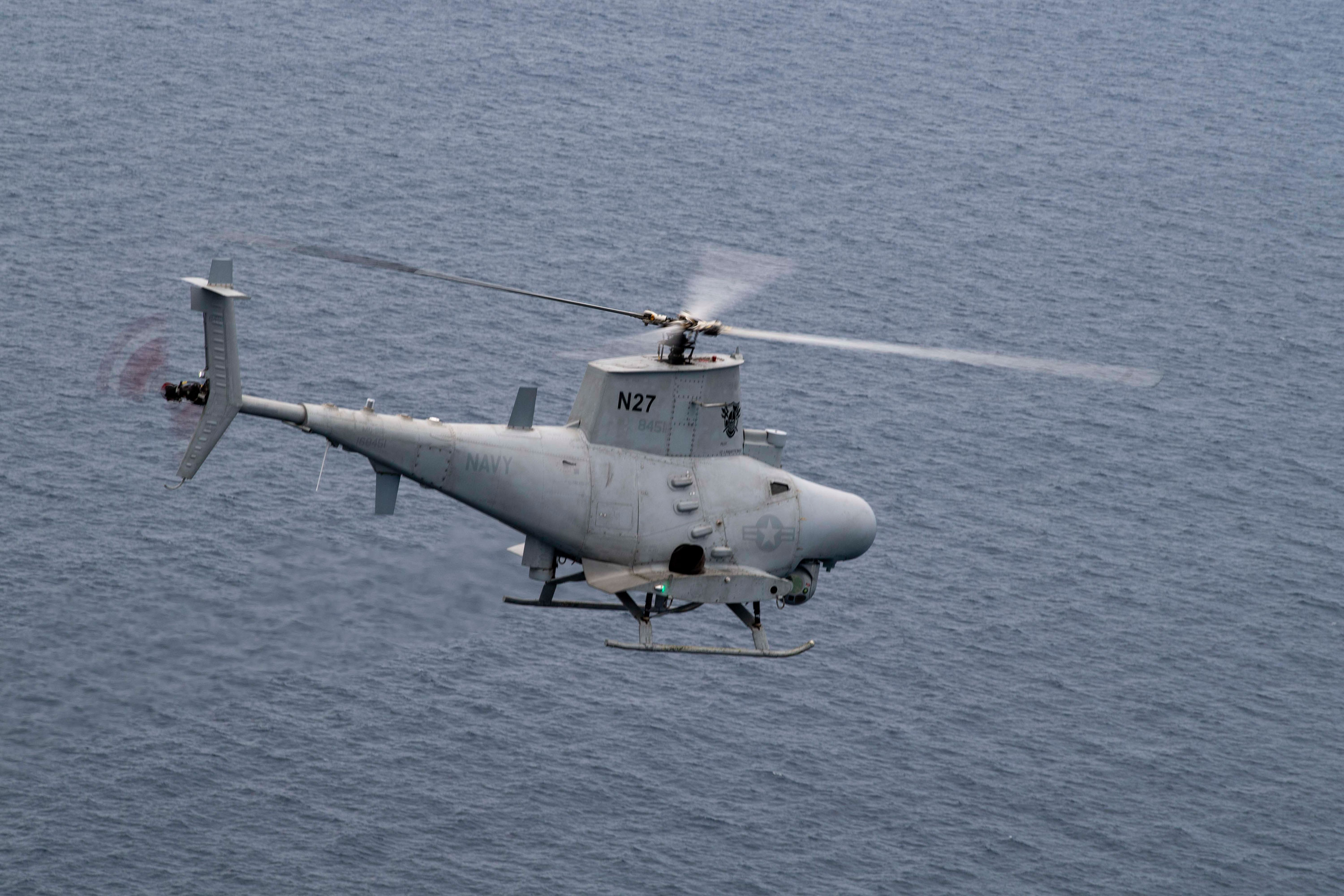 For 21 years, Petty Office 1st Class Timothy Egner has served his country by diving from helicopters and swimming through dangerous waters to rescue aviators and sailors. Recently, though, as a helicopter aircrewman, he's been picking up a new skill.
That's because this week, his Helicopter Sea Combat Squadron 22 became the first on the East Coast to supplement its MH-60 Seahawks with drones -- the latest, delivered this week, is basically a Bell 407 helicopter that flies by remote control.
Egner's job on the new MQ-8C Fire Scout will be operating its radar and "multi-spectrum targeting system" -- a souped-up camera that reads light, heat and electrical signals to pinpoint anything of military interest. He uses radar to spot what's floating out there, and the camera to take a close look.
Doing that will allow the sailors on Navy ships to see beyond the horizon. And it means HSC 22, which specializes in operating from smaller vessels, including littoral combat ships and cruisers, will have more flexibility to handle the many missions those ships undertake, said Cmdr Matt Wright, the squadron's commanding officer.
"A (MH-)60 can take a rescue swimmer to save someone, but the Fire Scout can fly 10 or 12 hours on an ISR (intelligence/surveillance/reconnaissance) mission -- that's really hard on a manned helicopter's crew," Wright said.
After some 5,000 hours over the years in helicopters, Egner knows how a long flight can get you in the back -- or as HSC 22 pilot, Lt. Ryan Jaenke put it: "Flying a UAV (unmanned aerial vehicle, or drone) is easier on your body, but flying a helicopter is more tactile, more visual."
It takes some getting used to, for pilots as well as aircrew, he said.
While Jaenke flies a helicopter with a cyclic control stick (along with four computer screens and dozens of dials and switches), all while he keeps a watchful, ever-moving eye on where he's going. Jaenke controls the Fire Scout with a computer screen and push buttons, relying on its cameras to know he is on track.
A smooth move of a helicopter control stick that would, for instance, move it up and to the right, is a two-step operation with a drone.
It takes some getting used to, Jaenke said. But he has grown used to flying a smaller drone, the MQ-8B -- a variation on the lightweight Schweizer S333 trainer helicopter.
The MQ-8C can carry twice and much and go twice as far, Wright, the squadron C.O. said.
When deployed, slated for next year, HSC 22 pilots and aircrew will fly manned and unmanned aircraft.
That's what they've been doing already with the smaller drone and their MH-60 workhouses.
For the squadron's mechanics, it means knowing -- and being able to repair -- the innards of three dramatically aircraft, said Petty Officer 1st Class Tyler Benkowitsch.
Egner, the aircrewman, likes the variety.
"It's like, sometimes you don't feel like shaving every day even though when you were a kid, you couldn't wait to start," he said.
He couldn't wait to get started flying on helicopters. And after 21 years, he still likes doing it -- even if some days, it means sitting at a computer screen and driving a camera with a joystick.
"Working on all these keeps life really rich," he said.
This article is written by Dave Ress from Daily Press (Newport News, Va.) and was legally licensed via the Tribune Content Agency through the Industry Dive publisher network. Please direct all licensing questions to legal@industrydive.com.
Show Full Article
© Copyright 2020 Daily Press (Newport News, Va.). All rights reserved. This material may not be published, broadcast, rewritten or redistributed.
tinyurl
is.gd
v.gd
v.ht
u.nu
clck.ru
ulvis.net
shrtco.de
tny.im