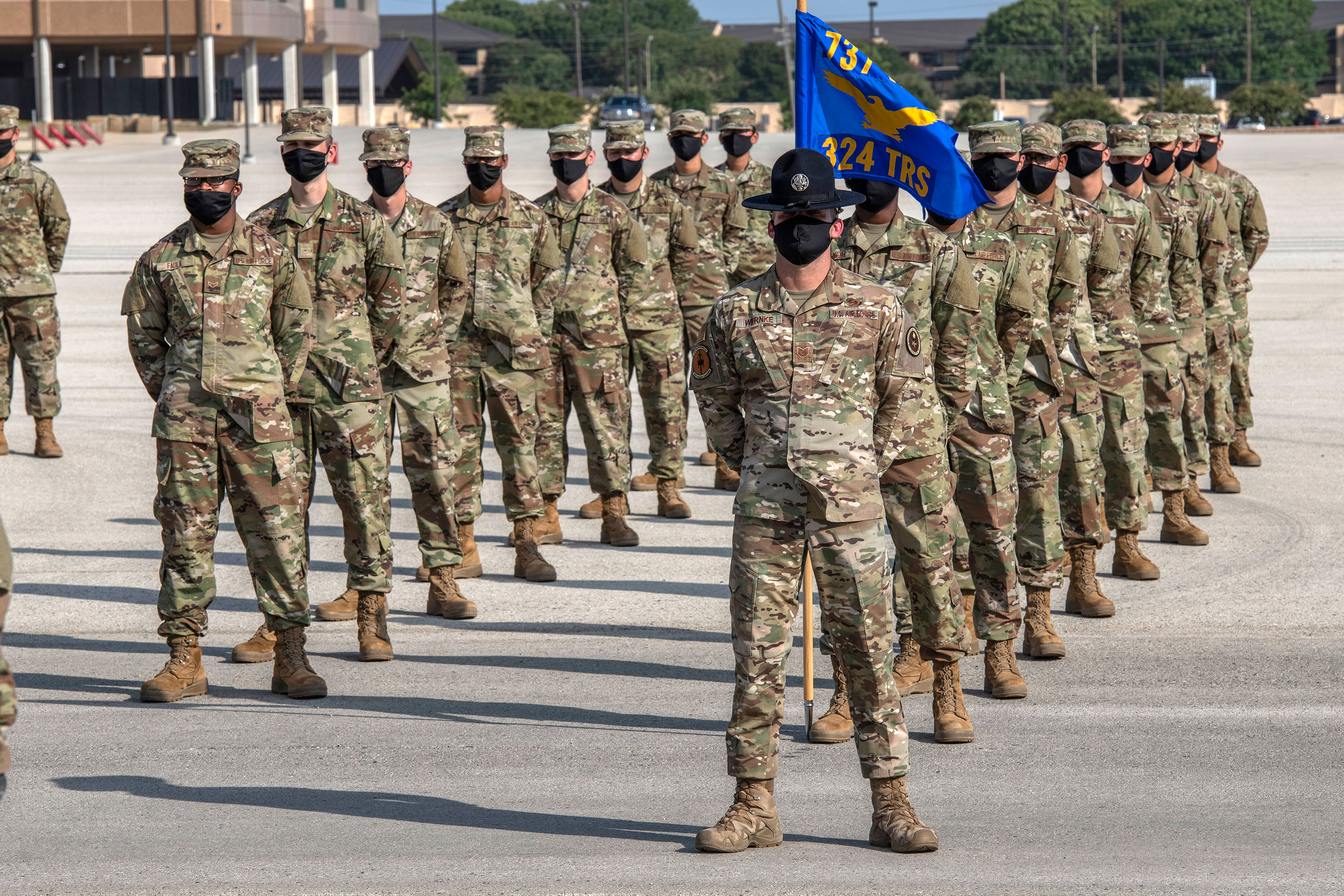 The U.S. Air Force has had to revise the way it executes its day-to-day missions amid the COVID-19 pandemic, with commanders all over the world amending their playbooks to keep airmen safe and healthy.
One unexpected benefit has been the evolution of stateside training, which has forced leaders to streamline how airmen learn in this new environment, getting them out the door to their next duty station more quickly for real-world operations, according to a top general.
Airmen who leave Basic Military Training at Joint Base San Antonio-Lackland, Texas, and head on to their technical training track have seen improved models using technology in place of classroom learning sessions and are able to progress at their own pace, according to Maj. Gen. Andrea Tullos, head of Air Education and Training Command's 2nd Air Force.
Read Next: $2 Million in Funds Earmarked for COVID-19 Went to Buy Army Greens Uniforms
"I think it's the first time that we have evolved our training pipeline ... in the last 25 years," Tullos said during a roundtable discussion with reporters Monday.
The idea is to cut wasted time.
"Our airmen come in under contract for either a four-year or a six-year enlistment," she said. "Some of them are in the training pipeline for two years; in some cases, a little bit more. If you talk to our airmen at Basic Training and ask them why they join the Air Force, they rarely say, 'So that I can stay in training for a year and a half.' They really want to get to their operational unit."
So the service has taken action. For example, much like the Pilot Training Next experiment in which pilots work within a virtual curriculum, airmen who go through intelligence training at Goodfellow Air Force Base, Texas, also move at a speed suited to their learning levels and do not have to wait until their entire cohort completes an assignment, Tullos said. Some studies that don't require a secure room can even be accessed online, she added.
With the modified approach, the Air Force has been able to streamline 150 days of intel training "down to about 110," Tullos said.
"When our fastest learners are done ... we can graduate them and they can PCS on to their initial duty station," she said. "There's cost savings associated with that [because] it reduces the stress on our dormitories, which then allows us to be able to keep physical distancing more easily. And it's really motivating to the learner."
The service is currently looking at how it can expedite training more often -- and create a more accessible curriculum, especially at large accession centers, said Lt. Gen. James Hecker, commander and president of Air University at Maxwell Air Force Base, Alabama.
For example, 85% percent of officers come into the Air Force from either Air University or the Officer Training School at the base, with a small element also located at Wright-Patterson Air Force Base, Ohio, Hecker said.
For years, professional military education and other distance learning courses have followed a mostly online curriculum, but some components require an in-residence portion to complete.
In order to meet COVID-19 restrictions, the in-residence portions have been tailored to use more virtual settings where the student and instructor meet via video conference calls instead of in a classroom, Hecker said. There are some classes where airmen head to campus, but if "somebody feels sick in the morning, instead of exposing everybody else, they will stay at home. But we can have them virtually come into the classroom," he explained.
The changes have also given airmen on maternity leave the chance to finish their requirements online. "That's not required that they do that, but if they elect to do that, then it's available for them," Hecker added.
With supplemental funding from Air Education and Training Command, the service is looking to expand its wireless Internet capabilities to make more of this possible, the leaders said. It's already happening at facilities and dorm rooms at Lackland and Keesler Air Force Base in Mississippi. The Air Force is temporarily using Keesler as an alternative location for Basic Military Training; the final class to be held there will graduate before Thanksgiving, Tullos said.
"There isn't anywhere in our enterprise right now where there isn't a need for the Internet. The beauty of some of the systems we have now is ... instructors can actually monitor [an airman's] work remotely, and they can see what students are struggling with. They can go into chat rooms and offer them some feedback," she said of airmen studying in their dorm rooms. "That is proving to make a dramatic difference in the ability of everyone to learn."
Tullos added, "There hasn't been a reduction of standards. It's important to us that we're able to make a trainee successful."
-- Oriana Pawlyk can be reached at oriana.pawlyk@military.com. Follow her on Twitter at @Oriana0214.
Related: The Air Force Is Making Changes to Its Enemy Capture Survival School
Show Full Article
© Copyright 2020 Military.com. All rights reserved. This material may not be published, broadcast, rewritten or redistributed.
tinyurl
is.gd
v.gd
v.ht
u.nu
clck.ru
ulvis.net
shrtco.de
tny.im