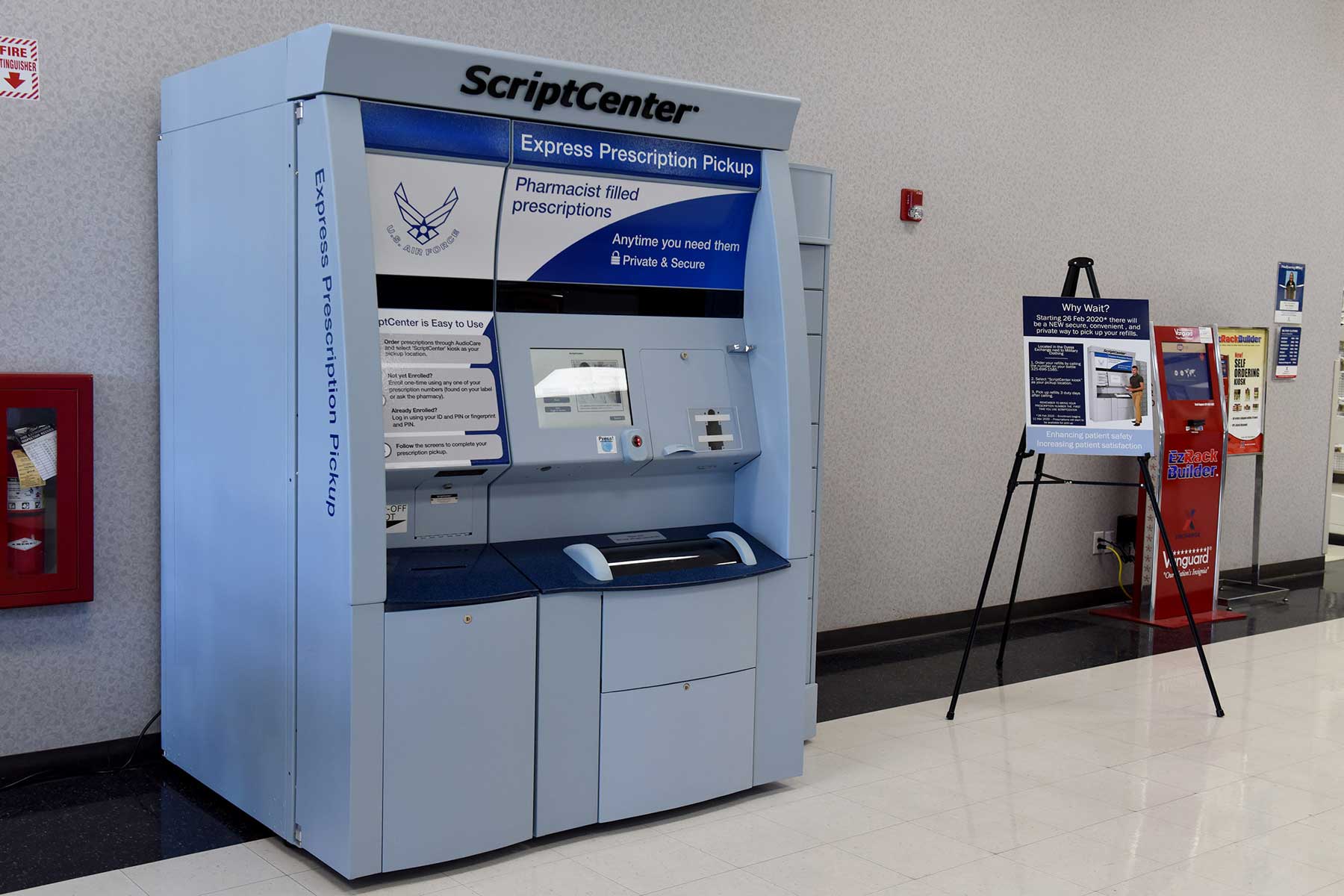 You may soon be able to pick up your prescriptions at the commissary or exchange without waiting in line in a room full of sick people.
The Military Health System recently announced an expansion of the prescription pick-up locker, or "ScriptCenter" program, nearly doubling the number of locations that offer the self-service, robotic option.
The new ScriptCenter uses a robot to fill, label and dispense pill bottles, all while you wait. The units will also have video capabilities one day, allowing a patient to communicate directly with a pharmacist if necessary.
Patients at participating locations will be given the option to get their medication either from the pharmacy or ScriptCenter when they order refills. The ExpressScript mail-order home delivery pharmacy option will still be available.
Active-duty military, dependents, retirees and all authorized Defense Department ID holders are eligible to use the ScriptCenter. Once requested, prescription refills will be available for pickup after three duty days and will stay within the system for 14 days. If not picked up, the prescriptions will return to the pharmacy.
The ScriptCenter offers refills on most common medications; controlled substances and refrigerated medications must still be received in-person from the pharmacist.
In use by the Air Force since 2009, the locker lets users scan their government-issued ID and enter a second personal identifier, such as date of birth or fingerprint scan, to have their medications automatically dispensed to them.
ScriptCenters are normally located in places such as the exchange or commissary, which are generally open longer hours than the base pharmacy is; however, they can be located anywhere. The ScriptCenter machine is available 24/7, allowing convenient prescription pickup options for busy folks, shift workers and the parents of children (who tend to get sick only on weekends).
There are currently 27 units at Air Force bases in the U.S. and Europe, with plans to add more than 20 additional units throughout the Military Health System in the next year.
The expansion of the program depends on each location's individual situation, such as safety and security, ease of access and availability of power and secure network communications.
Keep Up with the Ins and Outs of Military Life
For the latest military news and tips on military family benefits and more, subscribe to Military.com and have the information you need delivered directly to your inbox.
Show Full Article
© Copyright 2020 Military.com. All rights reserved. This material may not be published, broadcast, rewritten or redistributed.
tinyurl
is.gd
v.gd
v.ht
u.nu
clck.ru
ulvis.net
shrtco.de
tny.im