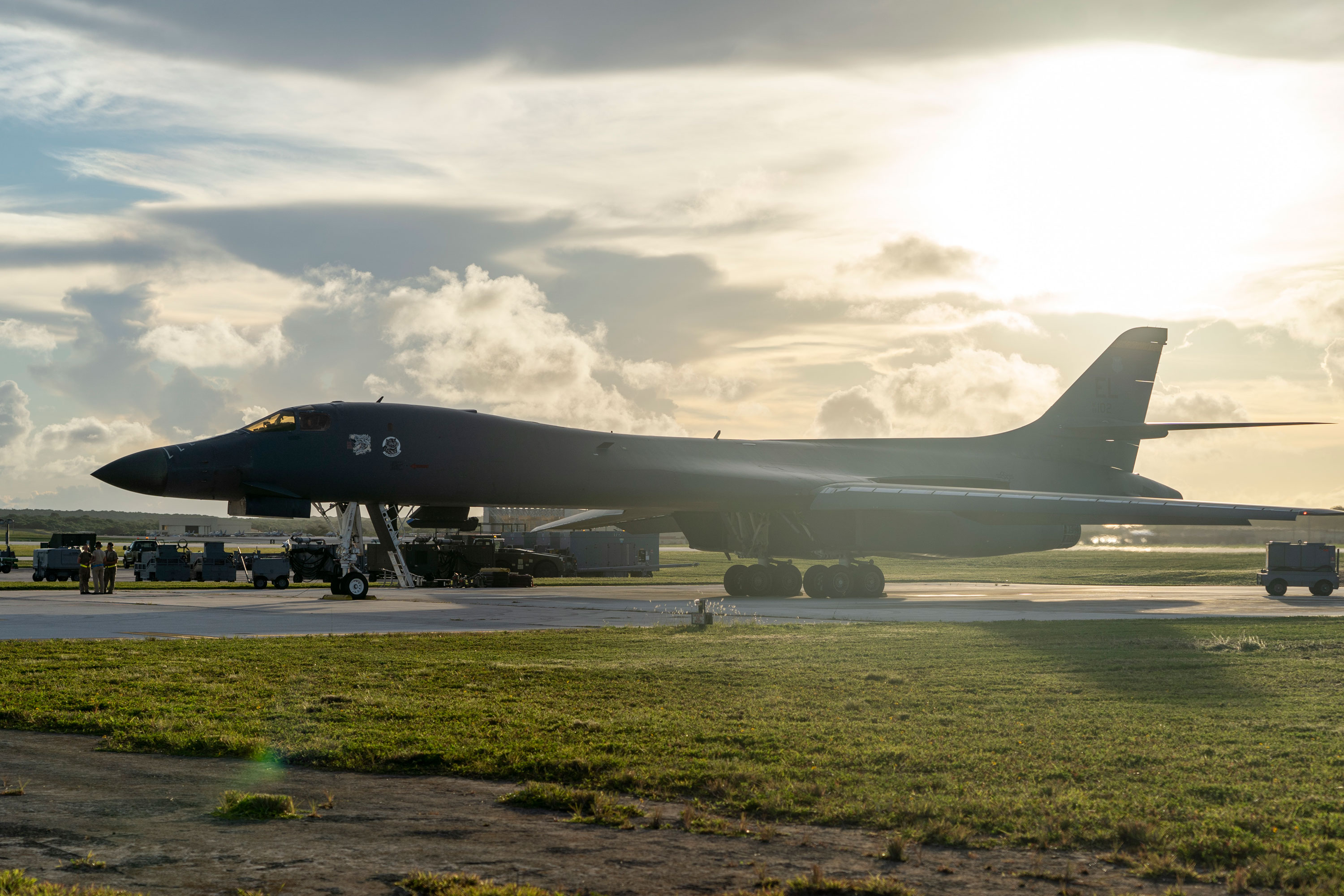 The U.S. Air Force's B-1B Lancer fleet is no longer as broken as it used to be, according to a top general.
The readiness of the long-range supersonic bomber fleet is improving, and its recovery and maintenance are well ahead of schedule, thanks to concentrated resources dedicated to bringing the workhorse airframe out of its previous abysmal state, Gen. Tim Ray, head of Air Force Global Strike Command, said Wednesday.
Read Next: No More Drill Sergeant 'Shark Attack': Army Moves Toward Kinder Basic Training Start
"[It's] probably six or seven months ahead of where we thought it would be," he told reporters during the Air Force Association's virtual Air, Space & Cyber conference.
"On any given day, I probably can fly well over 20 of the B-1s," Ray said, referencing the fleet's mission-capable rate, or the ability to fly at a moment's notice to conduct operations.
Within the last year, the airframe has endured frequent inspections and time compliance technical orders, or TCTOs, which often mandate modifications, comprehensive equipment inspections or installation of new equipment.
The B-1 bore the brunt of repetitive deployment cycles over the last decade, most notably to the Middle East.
For example, the aircraft flew 46,889 flight hours for overseas operations alone between 2013 and 2016, according to data provided to Military.com last year. Those hours do not include continuous bomber presence missions, or shorter rotations to Europe and the Pacific.
The bomber deployed again to the Middle East in 2018. But by the end of March 2019, Ray had ordered a stand-down, marking the second fleetwide pause in about a year, after a rigged "drogue chute" was incorrectly installed in an ejection seat egress system. The 62 bombers in the fleet underwent a careful inspection process and slowly returned to flight lines starting that April.
The command first grounded the fleet the year before over another problem related to the Lancer's ejection seats. Officials ordered a stand-down June 7, 2018, which lasted three weeks while the fleet was inspected.
The two setbacks took their toll: Then-head of U.S. Strategic Command, Air Force Gen. John Hyten, told Senate Armed Services Committee members in August 2019 that only about seven bombers were ready to deploy.
Ray attributed the decline to overcommitting the heavy payload bomber to operations in the Central Command area of operations, causing the aircraft to deteriorate more quickly than expected.
The B-52 Stratofortress, meanwhile, needs modernized engines, Ray said. The service has been pushing for a major engine overhaul for that bomber fleet, which it intends to keep flying into the 2050s. Each aircraft currently has eight Pratt & Whitney TF33-P-3/103 turbofan engines.
Despite "the engine issue," Ray said airmen can fly more than 30 B-52s on any given day out of the service's 76-aircraft inventory. And aside from one or two bombers rotating through depot maintenance, all 20 B-2 Spirits are ready at a moment's notice, he added.
Ray, who previously said the B-1's upkeep was "going to be a slow and steady process," was optimistic about its progress on Wednesday, especially with its participation in Bomber Task Force missions, or shorter flights that typically use two to three bombers alongside allies and partners.
Lancers, B-52s and the B-2s have been spotted flying in the Pacific, Europe and even due north near the Arctic all summer as part of the Pentagon's dynamic force employment strategy to test how military units can move nimbly from place to place.
"There is no better example of dynamic force employment than the Bomber Task Force capacity that we've been able to do in support of many, many countries and allies," Ray said Wednesday. "It's something we're going to absolutely continue to do."
He said he is pleased with the progress of integrating hypersonic weapons onto the B-52, as well as the potential for hypersonic weapons on the B-1 fleet -- despite its intended 2036 retirement date.
"I believe the near-term solution that we can succeed with and field quickly is ARRW, and we can do that on the bombers, between the B-52 and the B-1," Ray said, referencing the hypersonic Air-Launched Rapid Response Weapon (pronounced "Arrow"), currently under rapid prototype development.
-- Oriana Pawlyk can be reached at oriana.pawlyk@military.com. Follow her on Twitter at @oriana0214.
Related: Bombers Take Center Stage in Air Force's New Force Employment Strategy
Show Full Article
© Copyright 2020 Military.com. All rights reserved. This material may not be published, broadcast, rewritten or redistributed.
tinyurl
is.gd
v.gd
v.ht
clck.ru
ulvis.net
shrtco.de
tny.im