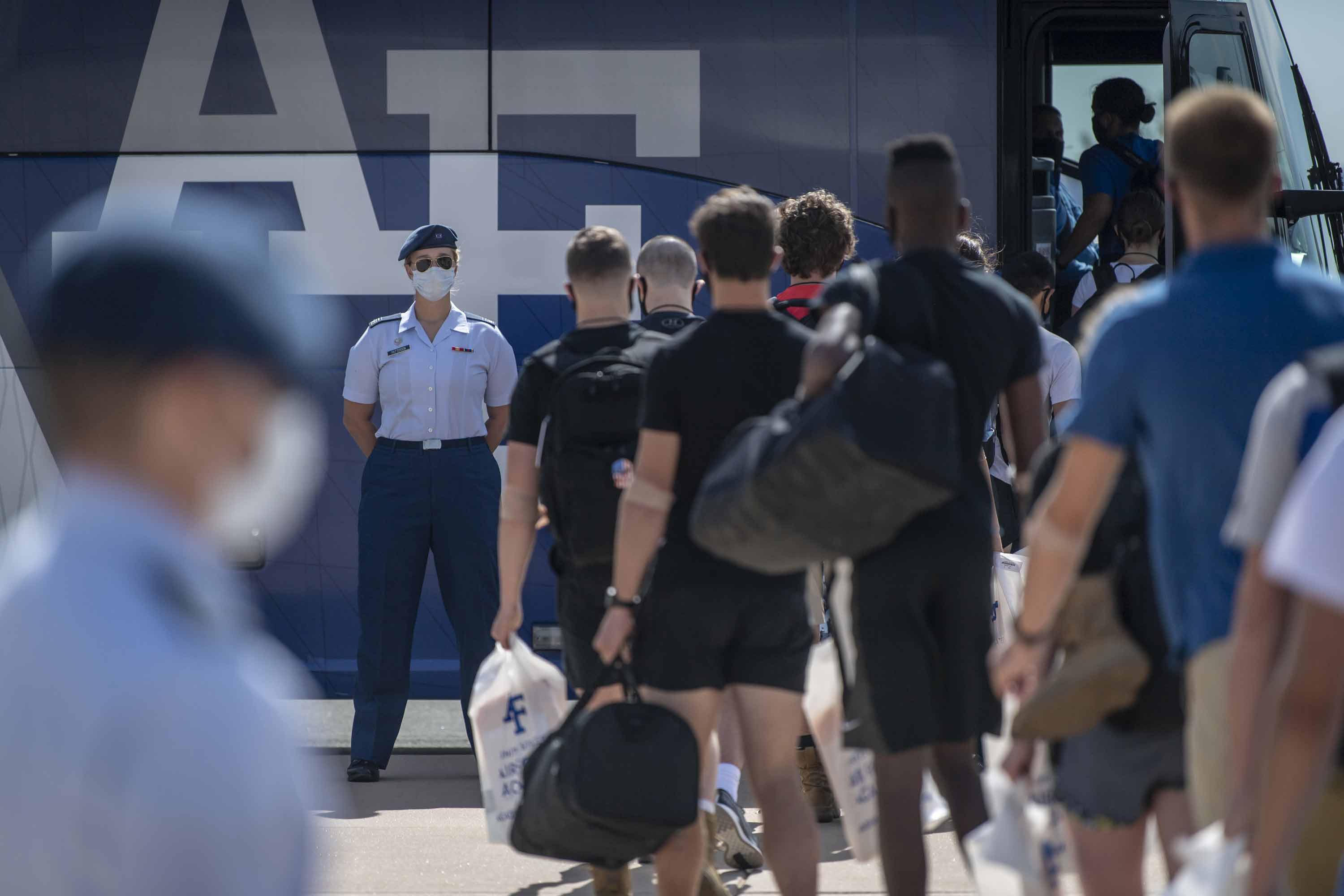 The U.S. Air Force is looking for alternative places to house Air Force Academy cadets both on and off base to preserve social distancing and other COVID-19 measures during the upcoming school year.
In a solicitation notice posted earlier this month, the school said it plans to pay for 220 double hotel rooms "with a minimum of two queen beds per room off base to house approximately 440 cadets for the 2020-2021 Academic Year."
Read Next: Esper Bans Use of Promotion Board Photos, Orders Review of Hair and Grooming Standards
The goal is for the cadets to reside "in as few hotels as possible within a 10-mile vehicle commute radius of USAFA," the solicitation reads. The Air Force would use this lodging until at least July 2021, it adds.
"We knew this was going to be a part of the mathematical predictive modeling going forward as we bring approximately 4,000 cadets to the Academy from every Congressional district in the U.S," said Michael Slater, a spokesman for the school.
The academy needs the additional space to house "a select and healthy group of cadets in order to maintain quarantine and isolation space based on public health recommendations" outlined by the Defense Department, the Centers for Disease Control and Prevention, and Colorado public health department, Slater said in an email Tuesday.
The majority of cadets would still live on base, he added. "Using some off-base lodging will allow us the space we need in the dorms at USAFA to have quarantine and isolation space as cadets return. The number of cadets [living] off-base would be relatively small."
Slater did not provide additional details but said other service academies are implementing similar creative options.
The academy said earlier this month that some incoming freshmen had tested positive for COVID-19, but pushed back on reports suggesting there had been an outbreak at the campus.
The Colorado Springs Independent first reported July 2 that roughly 100 cadets had the virus. But the academy characterized the report as a rumor perpetuated on social media.
"Although the Department of Defense directs DoD installations to report numbers of positive COVID-19 cases only to the respective military service branches, we can say the number of positive COVID-19 cases at the Academy are far lower than what has been reported on social media," Michael Kucharek, an Air Force Academy spokesman, told the Denver Post the following day.
Much like the United States Military Academy at West Point, New York, the Air Force Academy held a modified "in-processing day" as the incoming class of 1,100 cadets arrived last month. Officials administered temperature checks and COVID-19 tests, provided black masks and assigned cadets to cohorts of a maximum of 30 people, the Denver Post said.
-- Oriana Pawlyk can be reached at oriana.pawlyk@military.com. Follow her on Twitter at @Oriana0214.
Related: Air Force Uses Customized Shipping Box to Fly COVID-19 Patients Out of Middle East
Show Full Article
© Copyright 2020 Military.com. All rights reserved. This material may not be published, broadcast, rewritten or redistributed.
tinyurl
is.gd
v.gd
v.ht
clck.ru
ulvis.net
shrtco.de
tny.im