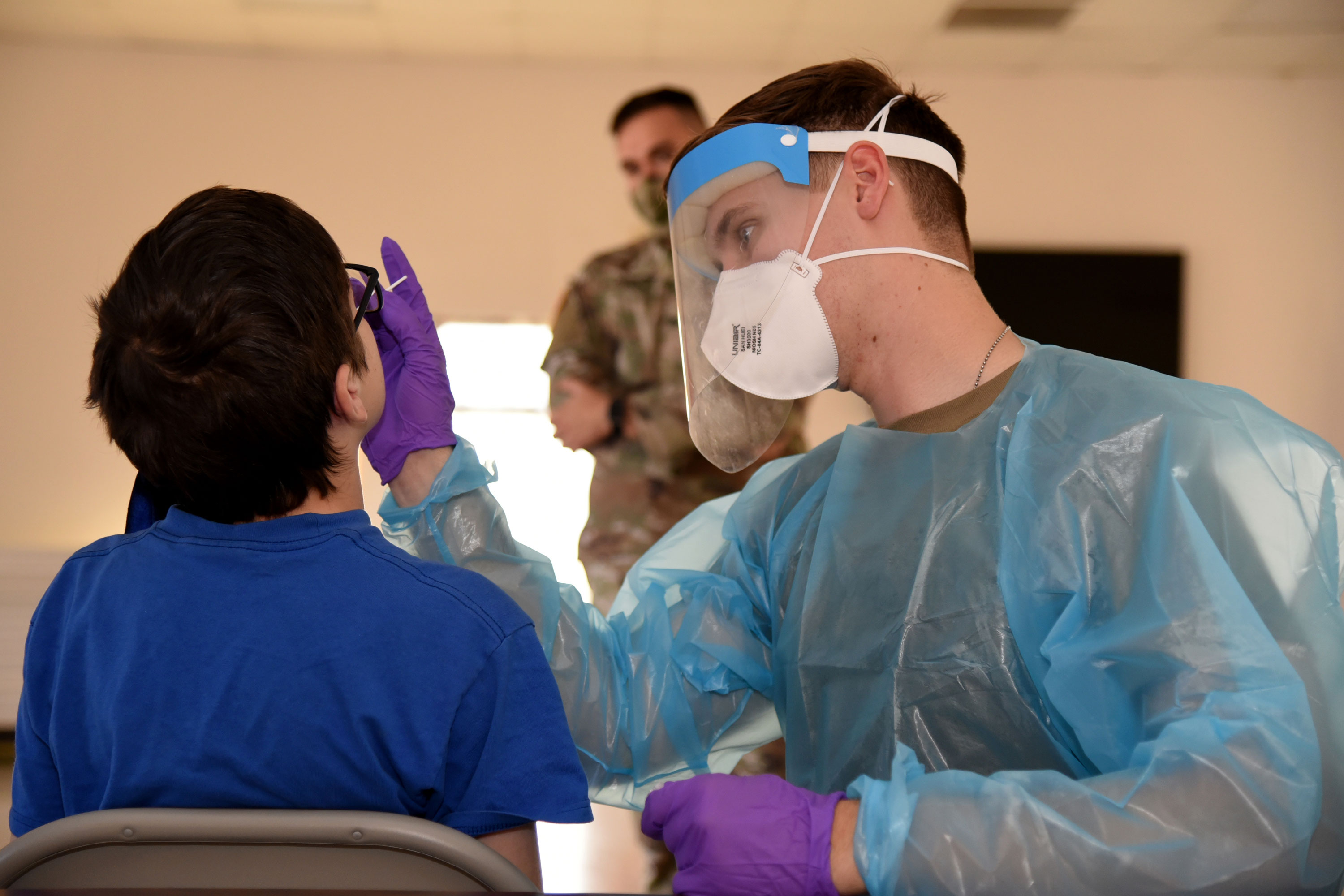 A steady decline in new coronavirus cases over nine weeks at the Department of Veterans Affairs came to an end last weekend, with the department seeing a 7% spike in new diagnoses across its health system, according to data released Monday.
Active cases of COVID-19 at the VA remain at less than half they were at their peak July 20. But the upturn -- 189 new cases over the weekend -- is similar to increases seen nationwide, which health experts say may be related to relaxed standards and social events over Labor Day.
Read Next: Norfolk Shipyard CO Is 4th Navy Leader to Be Fired in a Month
As of Monday, the VA had 2,844 active cases, up from 2,655 Friday. The number of active cases is roughly the same as the department saw in mid-June but remains well below the 6,424 receiving treatment at the VA on July 20 -- the department's single busiest day since the pandemic began.
To date, 57,968 veterans, employees and other patients under VA care have tested positive for the virus and 3,263 have died, including 67 deaths recorded between Sept. 18 and Monday, according to the department.
Across the U.S., the weekly number of new COVID-19 cases also rose last week for the first time in eight weeks, with new cases increasing by 17% and deaths rising by nearly 6%, according to calculations made by Reuters.
The U.S. has recorded 6.83 million cases -- just over a fifth of the world's known total -- and 199,690 deaths, or nearly 21% of COVID-19 deaths worldwide. The U.S. is averaging slightly more than 40,000 cases per day.
"Why are we going back up? I think there are a few reasons," Jeanne Marrazzo, director of the division of infectious diseases at the University of Alabama at Birmingham, told CNN. "One is that there is general fatigue. People are really tired of this. And then the second thing is ... the completely contradictory messages that we're getting -- not just the misinformation, but also the confusion about how things are spread."
The Defense Department does not release its number of active cases, instead revealing cumulative totals, which surged past 60,000 last week, including active duty, family members, civilians and contractors.
As of Monday, 43,419 military personnel; 5,725 dependents; 9,647 civilian employees; and 4,080 contractors had been diagnosed with the coronavirus; seven service members, seven dependents, 21 contractors and 58 employees have died.
Infections among military personnel remain high, with roughly 800 new cases diagnosed every two to three days, according to Pentagon data. The Army has had the most cases, 15,831, as of Monday; the Navy, 9,880; the Air Force, 6,807; the Marine Corps, 5,404; and the National Guard, 5,152. An additional 345 service members across DoD agencies also have tested positive.
The most recent death within the DoD community was Pamela Harris, 60, a school counselor at Fort Knox Middle/High School in Tennessee, who died Sept. 15.
Fort Knox is among the 25 Department of Defense Education Activity school systems in the U.S. and Puerto Rico that reopened for in-person learning in August or September. The school switched to remote learning Sept. 4 after six staff members developed symptoms of COVID-19.
-- Patricia Kime can be reached at Patricia.Kime@Monster.com. Follow her on Twitter @patriciakime.
Related: Here's How the Military Is Supporting the Historic Race for the COVID-19 Vaccine
Show Full Article
© Copyright 2020 Military.com. All rights reserved. This material may not be published, broadcast, rewritten or redistributed.
tinyurl
is.gd
v.gd
v.ht
u.nu
clck.ru
ulvis.net
shrtco.de
tny.im